Mind the gap
If we asked you what club you hit 150 yards, you'd likely have an easy answer. However, when it comes to 100 yards and in, it all gets a little messy and unclear. The funny thing is, this is the part of the game where our scores are made and lost, so maybe we all need to focus a bit more time on getting it right?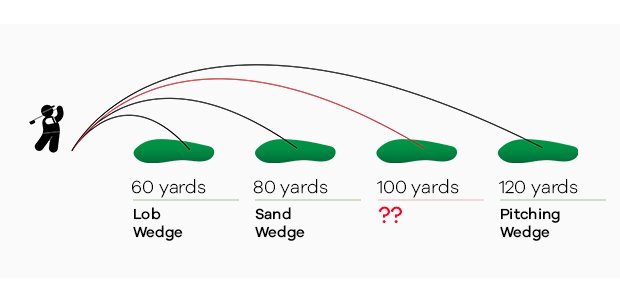 Do you have any yardage gaps in your set?
To start with, make sure your wedges are evenly gapped.
What is gapping?
It's the fun process where we make sure each club in your bag goes a specific distance and that there are even gaps between one club and the next. This is particularly helpful when it comes to your wedge system!

So, rather than having to try and manipulate your swing-length to hit the ball a certain yardage, let's look at things a different way.
Instead, make a note of the distances you most commonly face on the golf course but don't have a club that matches up. Then, we can help find you a club that goes that distance. If this is something you'd be interested in, send us a message.
Back to Articles